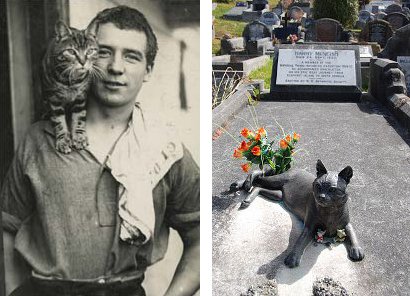 When Ernest Shackleton set out for Antarctica in 1914, his carpenter, Harry "Chippy" McNish, brought along a tabby who was quickly named "Mrs. Chippy," though he proved to be a male. When the Endurance was crushed by pack ice, Shackleton ordered the "weakling" cat to be shot, a decision for which McNish never forgave him. Cat and carpenter were reunited in 2004, when a life-size bronze statue of Mrs. Chippy was added to McNish's grave in Wellington.
Vilhjalmur Stefansson's 1913 arctic expedition ended in disaster when the main vessel sank, but ship's kitten Nigeraurak ("little black one") was lugged safely home in a sack, "the only member of the expedition to survive the whole affair sleek and unscathed."
And Matthew Flinders' cat Trim accompanied him on several adventures, including the circumnavigation of Australia, a shipwreck in 1803, and imprisonment in Mauritius during the return to England. Today Sydney's Mitchell Library bears a statue of the cat (below), with a plaque quoting Flinders' own words:
TO THE MEMORY OF
TRIM
The best and most illustrious of his race
The most affectionate of friends,
faithful of servants,
and best of creatures
He made the tour of the globe, and a voyage to Australia,
which he circumnavigated, and was ever the
delight and pleasure of his fellow voyagers.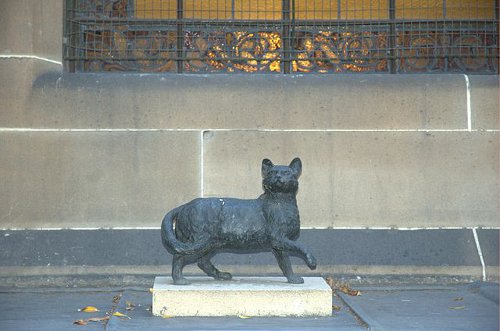 Image: Wikimedia Commons